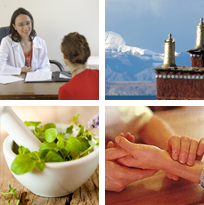 Being healthy is an art that involves balancing various elements of our life. Different challenges we face can disturb the equilibrium of the body and mind, and this can lead to ill-health which creates much discomfort and pain. Consultations with Ariadna give you a variety of natural solutions to check illness and find your optimal health and balance. Employing Ayurvedic medicine, Ariadna offers quality healthcare for people of all ages and conditions, while specializing in particular in women's health.
What can you expect? Initial consultations take around 75 minutes. Ariadna usually begins with a discussion of your current health concerns, then an evaluation of your condition, medical history, pulse and body constitution to get a diagnosis. Following this, she offers some insight on the nature of the condition, with a treatment plan to resolve it. Ariadna creates an open and relaxed atmosphere for you to feel comfortable. In her approach she strives to understand you fully, and to explore the best remedies and healing approach for your particular case.
How does the treatment work? Ayurvedic treatments involve food and lifestyle advice, natural remedies, Ayurvedic therapeutics like Abhyanga massage, and perhaps yoga or meditation. Ayurveda encourages you to regain health one step at a time, rather than make sudden, drastic life changes. Benefits of treatment can usually be felt right away, and Ariadna evaluates your improvement and developments during follow-up sessions.
What are the prices? Initial consultations are around 75 minutes and cost £75. Further follow-ups are 45 minutes long and cost £45. Online skype follow-ups are also available, these cost £45.
Payment options: we accept cash, cheque or bank transfer.
Cancellations policy: Please let me know at least 24 hours in advance if you are unable to make your appointment, otherwise there will be 50% charge for cancelling without notice.