Ayurvedic therapies are the backbone that supports every treatment process from start to end. Applying the right therapy, at the right time, allows us to effectively tackle the cause of disease and restore the natural balance of cells, tissues, organs and systems. Employing medicated oils and herbal packs, each therapy targets the individual's vitiated 'doshas' or elements of disease, whilst deeply cleansing every channel and system.
As a result, Ayurvedic treatments enhance life span, promote health, improve strength and complexion. Our aim is to offer you an extraordinary healing experience from the moment you step in, so that your Prana  or life force is encouraged to flow and thrive.
For bookings please email us at ariadna@vitalveda.com or call on 07557 536127
Abhyanga, Full Body Massage – £70 (65 minutes)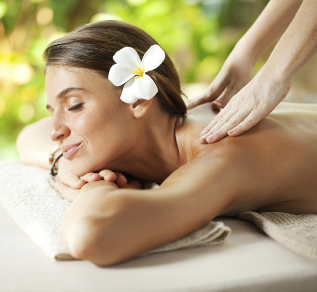 Profoundly relaxing for the body and soothing for the mind, this warm herbal oil massage is the hallmark of Ayurvedic therapies. Abhyanga, recommended for all body types, is extremely effective to relieve anxiety, stress, sleep and nervous disorders. It has a nurturing and calming effect that helps women to balance hormones, reduce PMS and mood swings. After receiving abhyanga the skin glows, muscles and tissues are strengthen, and vitality is restored. 
Marma Abhyanga, E

nergy

Point Massage – £75 (75 minutes)
This massage stimulates blood and lymphatic flow by activating the marmas, or points of the body's meridians. Marma points often get blocked by toxins and can become areas of imbalance. This therapy removes blockages and encourages good movement of energy throughout each marma. It's recommended for detoxing and cleansing, and it's therefore ideal during the change of seasons when we're susceptible to imbalance, or at the start of a new treatment. 
Shiro Abhyanga, Head, Face & Neck massage – £50 (45 minutes)
This is an excellent treatment for calming and soothing a busy mind. Applying firm but gentle strokes to all your facial muscles, scalp neck and shoulders, this massage helps to sedate, ground and settle a hyperactive nervous system. Warm medicated oils are used according to the individual's needs. It's very helpful to treat headaches, migraines and insomnia.
Pada Abhyanga, Foot Massage – £45 (45 minutes)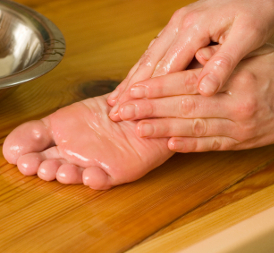 Our feet and soles contain multiple nerve endings that when appropriately stimulated have the power to positively affect different parts of the body. This massage focuses on activating all these points from feet to knees. The result is invigorating and creates a strong sense of balance on the rest of the body.
Kati Basti, Back Heat Therapy & Massage- £50 (45 minutes)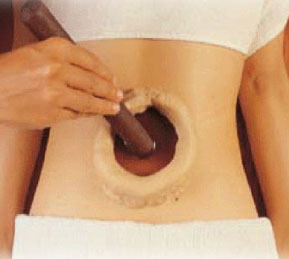 This is a special treatment for the back, where heat is applied on the sacral or lumbar region by pouring warm medicated oil which is then retained in a paste frame for 15 minutes. This is followed by massage and herbal steam of the area. The therapeutic effects of the herbal oil and steam help relieve back pain and inflammation. Kati basti is beneficial for diseases like sciatica, lumbar spondylosis, disc prolapse, rheumatoid arthritis and lumbosacral strain.
Hrid Basti, Heart Massage Therapy – £50 (45 minutes)
Deep emotions like worry, grief, anger and fear can often cause major health problems, specially when carried over a long period of time. In this treatment warm medicated oil is applied and retained in a paste frame over the chest. This is followed by massage and fomentation. This therapy releases any constrained emotions of the heart and mind. It supports self reflection and improves mental and emotional heath.
Sali Pinda Sweda, rice poultice therapy – £70 (75 minutes)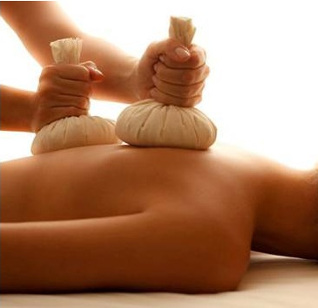 This is a unique Ayurvedic treatment where perspiration is induced by using round hot packs of rice with medicinal herbal roots applied all over the skin. Preceded by a full oil massage, Pinda Sweda is a therapy that has a deeply nourishing and restorative effect on the body. It is best for those who are badly affected by stress, to treat Vata imbalances and drained Vata types. It's very helpful in conditions such as fibromyalgia, sciatica, multiple sclerosis, osteoporosis and arthritis.
Nadi Sweda, herbal steam therapy – £65 (75 minutes)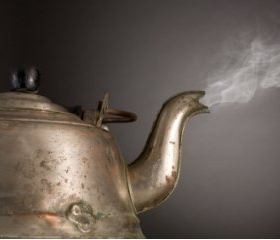 This treatment is designed to eliminate pain and stiffness from a particularly affected area of the body. Using localised heat and herbal steam to penetrate through the skin, the channels of circulation open up and automatically any pain, stiffness or congestion is relieved. The treatment starts with a full body Abhyanga massage, followed by the application of herbal steam. This is particularly good for respiratory problems, muscular/ joint pain and recovery from injury. 
Udvartana, herbal powders massage – £60 (60 minutes)
In Udvartana, the whole body is infused and massaged with aromatic powdered herbs selected according to the individual's needs. This exfoliating therapy is toning and stimulating for the skin, it improves circulation and leads to a sense of lightness in the body. It is best to corrects imbalances due to excess Kapha, such as obesity and diabetes. Udvartana is also recommended to detox during autumn and spring.

Avagaha S

w

eda,

herbal bath

–

£75 (90 minutes)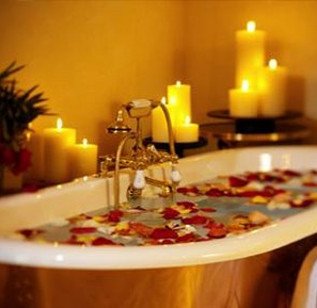 After a full Abhyanga massage, a herbal bath is the best way to achieve complete relaxation and absorption of herbs. Avagaha is an invigorating bath with a unique blend of herbs and essential oils selected according to your personal needs. It's a great treatment for the skin, leaving any dry or rough areas soft and smooth. This is a purifying and relaxing experience that guarantees to fully rejuvenate your body, mind and soul. 
PanchaKarma Retreats
These retreats offer an opportunity to recharge your body, mind and soul, whilst being immersed in the world of Ayurveda and Yoga. Through various therapies as seen above, selected foods, herbal remedies and Yoga, Ariadna creates a unique three or seven day experience to restore your health and well-being.

"My Ayurveda retreat has been a first class experience, I cannot thank you enough. I feel completely rejuvenated and empowered. I loved learning the Ayurvedic principles and recipes in the kitchen, I loved your massage treatments and the Bhakti yoga sessions. I felt pampered throughout and now I can't wait to come back! " Silvia Recio

Ayurveda Weekend Retreats, £435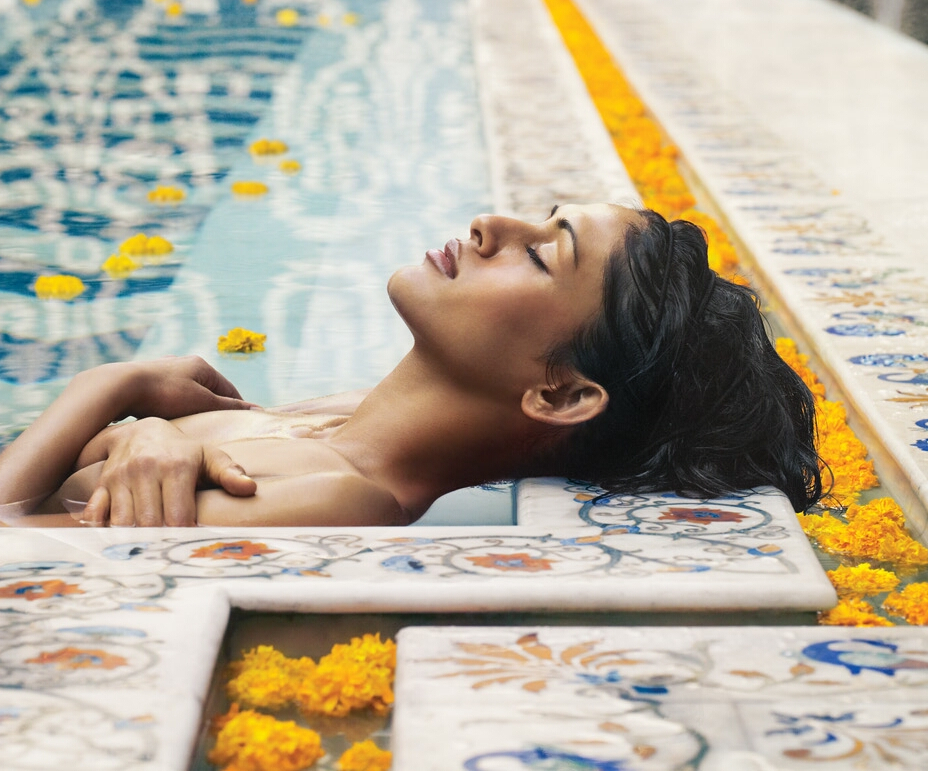 We offer a cosy place of stillness to disconnect from your daily pressures and dive into an Ayurvedic and Yogic routine for three days. The weekend starts with a session where Ariadna makes an assessment of your current health and ascertains the therapies, food and herbs that would suit you best for the weekend. Once a plan is designed, your first treatment starts on Friday evening and ends on Sunday evening. During the weekend, you'll learn recipes in the kitchen, as well as the different 'sadhanas' or routines that can help you stay balanced back at home. Our aim is to inspire you to continue with these healthy practices in your day-to-day living, so you can further perfect your well-being. 
Mini PanchaKarma One Week Retreats, £855
Pancha Karma means 'the five therapeutics', it is an intensive type of treatment that has been in practise in India and Sri Lanka for thousands of years. Considered to be one of the best ways to uproot disease from it's core, it follows a methodical sequence wherein the body is purged system by system in order to eliminate all elements causing disease. Traditionally, it takes five weeks to fully complete a PanchaKarma treatment. This includes various types of enemas, virechana or purgation and nasya, nasal administration of drugs. We offer a sample of PanchaKarma over a week, to fully receive the benefits of one of the therapies. After an initial session, Ariadna determines the therapy most suitable for you, and administers it over the course of a week. This is a time of rest meant for detoxifying, light yoga, meditation and reflection are part of the daily routine. All meals and remedies are prepared according to your personal needs.

Important note: All Ayurvedic treatments including PanchaKarma are available for women only.
For bookings please email us at ariadna@vitalveda.com or call on 07557 536127