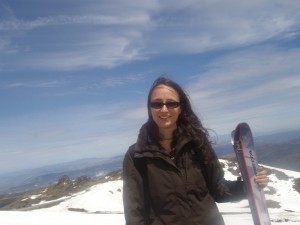 My lovely patient Alice(*) has recently returned from a skiing holiday in France. Truth be told, I feel rather nostalgic now. I grew up in Granada, a beautiful city with glorious peaks- the Sierra Nevada mountains.
Every winter I would spend most weekends up in the crispy white slopes, with nature at its best, loving every minute spent on my skis.
It's no surprise that Alice now reports, "ever since the mountain break and your Ayurvedic herbs my symptoms are gone!" Indeed, this is a revitalizing combination. The mountains are a great place for healing and a source of many medicinal herbs. It's where the yogis and sages of yore would spend years practising Ayurveda and Yoga.
When I'm high up in the mountains I become totally enveloped by them. It feels like being on a gateway to heaven, where you can almost touch and speak to the Divine. Worries melt away, and there is nothing but an intimate connection between yourself, the earth, the sun and the wind as you slide down from the tops. It's always an exhilarating experience for body, mind and soul.
We managed to catch the last snow of the season in May 2013, fingers crossed it won't be long till next trip!
(*) for privacy reasons all my patients are called "Alice" or "Bob"