The Vital Vegetarian
Categories: Recipes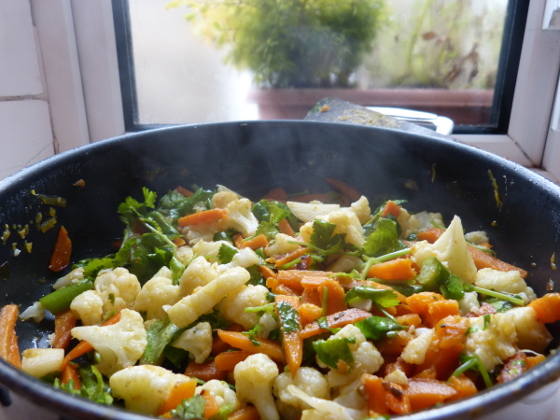 Sweet Potato Lush:
Asparagus, cauliflower and sweet potatoes, who knew this combo would taste so good! This dish is simply delicious. I made it last week and I was quite pleased with it.
This is a nourishing recipe ideal for Vata types and any balanced body type on a cold day.
Serves 4. Ingredients:
4 tbs of organic cold-pressed sesame oil
2 tbs of fresh grated ginger
A pinch of asafoetida powder
1/2 teaspoon cumin powder
650 g sweet potato
1 small sized cauliflower
300 g asparagus
A Bunch of fresh coriander leaves
1 teaspoon salt
First prepare the vegetables. Peal, wash and cut the sweet potatoes into sticks. Wash and gently separate the cauliflower florets. Wash and cut the asparagus from the tips to the roots. Once the knife doesn't easily cut through, you can discard it. This bit of the asparagus won't soften after cooking.
Heat the sesame oil in a medium sized non-stick saucepan over medium heat. Peal and grate the ginger and add it in once the oil is hot. Toss in the asafoetida and cumin powder. In sequential order add in the vegetables. First put in the sweet potatoes and saute in low heat for about 5 to 8 minutes, then add the cauliflower florets and put the lid on. Cook together for another 5 minutes. Then stir in the asparagus. Let it all cook together until soft, preferably with the lid on.
Season with salt and sprinkle with freshly cut coriander, Bon Appetite!